Materials for Energy
Energy is an area where materials technology will play a particularly important role in meeting the needs of the future.
The growing importance of environmental issues is such that energy generation, conservation, storage and security of supply will continue to be major drivers for materials technology. We need sustainable energy production and use while at the same time meeting socio economic and environmental targets:

The high priority of energy makes it important to sustain research, development and modelling of materials for energy applications.
- The UK should set out to recover, capture and develop the knowledge-base of high integrity structural materials for future power generation.
- The UK should examine transferable material solutions and methods across the complete energy portfolio to attain maximum competitive advantage.

The global focus on energy is an opportunity to develop world-class knowledge and capability in the UK in materials for energy generation, low energy processing and energy conservation, and to attract investment (including inward investment)
Contacts
---
Funding Opportunities for Nuclear R&D: A Programme to be Funded by the Technology Strategy Board
Based on an independent study which it commissioned to review both the business opportunities and the UK's R&D capability for the civil nuclear sector the Technology Strategy Board has announced that it will be investing up to £2m in feasibility studies (up to a maximum of £150k each study) to stimulate innovation and strengthen the supply chain in the area of nuclear R&D and its application.
Three regional workshops are being co-ordinated by the Energy Generation and Supply KTN to promote the competition, engage with the supply chain and broker potential partnerships. The dates and venues are as follows:
7 June 2010, Manchester Conference Centre (10.00 - 15.00) Register
8 June 2010, TWI North, Middlesbrough (10.00 - 15.00) Register
10 June 2010, Advanced Manufacturing Park, Sheffield (10.00 - 15.00) Register
The events are all free to attend.
The competition is looking to engage SMEs from a broad range of sectors together with existing major players in the nuclear sector or potential new entrants into the market. The SMEs may have technology ideas or products that they feel could be applicable to the nuclear industry, but need further development, analysis or assessment to take them to the next stage. Research providers such as universities and RTO's are also eligible for the competition.
The competition scope includes technologies such as:
Condition monitoring, maintenance techniques, NDE
Materials technologies, mechanical integrity, modelling and lifetime prediction
Control & instrumentation, sensors and electronics
Knowledge capture & transfer
Manufacturing & construction technologies
Fuel systems, decommissioning and waste handling/disposal
---
First International Conference on Materials for Energy Announced
Dechema e.V. have announced that the First International Conference on Materials for Energy will take place at the Convention Centre, Karlsruhe, Germany from the 4th to the 8th July 2010.
A call for papers is open for this conference. To submit an abstract visit the conference web site www.dechema.de/enmat2010
A flyer for the event can be downloaded here in PDF format.
---
Energy Generation and Supply KTN (EG&S KTN)
The Energy Generation & Supply Knowledge Transfer Network (EG&S KTN) is a completely new KTN and will be launched on 13th October at Innovate 09.

Innovate '09 is the Technology Strategy Board's annual exhibition; this year it will address all aspects of technology innovation, with special
focus on the commercial exploitation of a low carbon economy and energy generation and supply, among others. There will be a main panel session
featuring ministerial and senior industrial panel members.

A break-out session on supporting and enabling innovation in energy will provide a unique gathering of representatives from the KTN, the
Technology Strategy Board, Research Councils, The Carbon Trust, DECC and the Energy Technology Institute; all of whom will be available for
discussion throughout event. Further details, including on how to register, can be found at http://www.innovate09.co.uk/home.aspx.

The KTN is led by TWI and brings together a strong delivery team comprising AEA Technology, APGTF (Advanced Power Generation Technology
Forum), ITF (The Industry Technology Facilitator), Synnogy and UKERC (UK Energy Research Centre); it is referenced within the UK Government's
2009 Low Carbon Transition Plan.

In accord with the Technology Strategy Board's EG&S strategy for 2008-2011, the KTN will focus on several technology areas: offshore
wind, wave and tidal, carbon abatement technologies (including higher efficiency plants, biomass co-firing and carbon capture & storage),
hydrogen and fuel cells, maximising oil & gas resources and future emerging opportunities.

Registered EG&S KTN members will benefit from access to advisory services aimed at facilitating business and technological success, for
example in R&D funding and collaboration building, project financing, supply-chain opportunity, technology investment and updates, market and
policy information.

Registration is free and can be quickly completed at http://www.innovateuk.org/energyktn.ashx

This URL will be the web address for the Energy Generation and Supply KTN website and further information and useful links will be posted here
until the launch of the full site.

---
Scientists Publish Road Map for Low Carbon Future
The Royal Society has published a report of a discussion meeting held at the Royal Society in June calls for a new vision of energy generation that is based on the long term replacement of fossil fuels through the development and deployment of new technologies.
The report, Towards a low carbon future outlines a roadmap of the technologies which can play a part in the short (up to 2020), medium (2020-2050) and longer term (beyond 2050) in decarbonising electricity:
Short-term transition: deployment of renewables such as wind, tidal and biomass, Carbon Capture and Storage (CCS), and the renewal of nuclear power if issues such as the safe disposal of waste can be addressed
Medium-term transition: new marine, bio-energy and advanced solar technologies, synthetic fuels and wide spread deployment of CCS
Longer-term transition: advanced energy storage and delivery technology to allow the wide spread use of intermittent energy from wind, the sea and the sun and potential deployment of nuclear fusion.
The roadmap document as well as several other presentations from the event are available on the site link above.
---
Dragon's Den - Energy Materials
22nd June 2009, RSA, London
This event was held at the RSA, London on the 22nd June. The aim of the event was to help to implement the Strategic Research Agenda of the Energy Materials Group by prioritising technologies based on business cases; assessing where the technologies lie in the funding landscape; identifying who are the appropriate funders and maintaining the profile of the Energy Materials Group.
The event took the form of a Dragons Den with each of the energy technologies having 15 minutes to present a business case to the five Dragons from Carbon Trust, ETI, Technology Strategy Board, EPSRC and Regional Development Agencies. The Dragons were then give 15 minutes to question the presenter and then voted as to whether they would fund or not. The audience then had the opportunity to vote as to who should be the primary funder and who, if anyone, should fund research jointly.
The presentations from the event are available to download in PDF format below.
---
Energy Materials Meeting the Challenge
9th - 10th October 2008
Burleigh Court Conference Centre, Loughborough, UK
Following the launch and publication of the Materials UK Strategic Research Agenda (SRA) for Energy Materials in December 2007, this 2 day conference was held on 9-10th October 2008 which highlighted the vital role of materials, and the progress made to date, in meeting the challenges identified in the SRA and in tackling climate change.

The presentations from the event are available for download in PDF format below.
Day One
Plenary Session - Stakeholder Perspectives
Materials UK (PDF 1.18MB)
Dr Derek Allen, Chairman MatUK Energy Materials Working Group)
Energy Technologies Institute (PDF 938KB)
David Clarke, CEO ETI
Technology Strategy Board (PDF 315KB)
Alan Hooper, Lead Technologist, Advanced Materials, TSB
EPSRC (PDF 1.54MB)
Alison Wall, Associate Director, Mission Programmes)
Ministry of Defence (PDF 428KB)
Robert Reeve, Power Sources, DSTL
Session 2 - Fossil Energy
Steam Plant (PDF 350KB)
Steve Osgerby, Alstom Power)
Gas Turbines (PDF 1.74MB)
Neil Glover, Rolls-Royce plc
Carbon Capture and Storage (PDF 1.43MB)
Richard Hotchkiss, RWE npower
Session 3 - Renewables 1
Photovoltaics (PDF 780KB)
Stuart Irvine, Optic Technium
PEM Fuel Cells (PDF 1.24MB)
Paul Adcock, Intelligent Energy
Solid Oxide Fuel Cells (PDF 676KB)
Alan Atkinson, Imperial College, London
Day 2
International Perspective (PDF 2.28MB)
Bob Romanosky, US Department of Energy
Session 4 - Renewables 2
Offshore wind/marine (PDF 1.83MB)
Andy Morris, EOn
Hydrogen (PDF 2.62MB)
Peter Edwards, Oxford University
Bioenergy (PDF 997KB)
Len Pinder, EOn
Session 5 - Transmission, Distribution and Storage
Transmission (PDF 505KB)
Jennifer Cooper , National Grid
Distribution (PDF 320KB)
Andrew Hyde, Manager National and International Collaborative Research Projects, Areva T&D UK Limited
Storage (PDF 353KB)
Peter Hall, University of Strathclyde
Session 6 - Nuclear
Fission Materials Overview (PDF 5.93MB)
Andrew Sherry, Manchester University
Fission - Waste Handling & Storage (PDF 2.92MB)
Bill Lee, Imperial College, London
Fusion (PDF 2.36MB)
Steve Cowley, Director, JET
Summary and Way Forward (PDF 168KB)
Dr Derek Allen, Chairman MatUK Energy Materials Working Group
---
UK Power Generation Supply Chain Status - Document Published
The UK Power Generation Supply Chain Mapping Document has now been published and is available for download. Please click on the image of the document below to download the file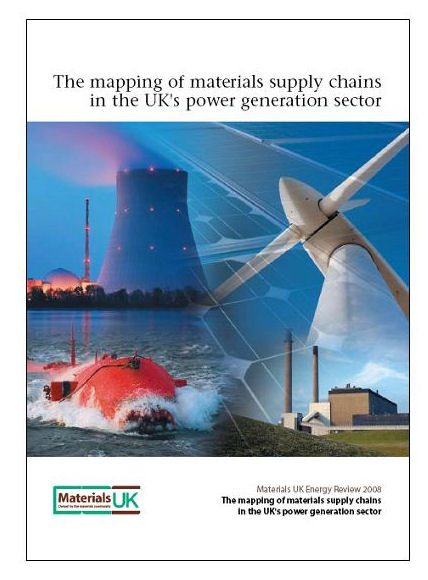 ---
Going Nuclear Again
Following on from the Energy Materials Strategic Research Agenda reports released in 2007, Professor George Smith writes in the March issue of Materials World Magazine about the future of nuclear power in the UK. He reviews the UK and Global status of nuclear power as well as the technological challenges and opportunities for the UK in developing and building new nuclear installations.
The article is available to download here in PDF format.
---
UK Power Generation Supply Chain Status - Dissemination Event
1st May 2008
NAMTEC, Swinden House, Rotherham
Following the successful launch of the Strategic Research Agenda for Energy Materials, Materials UK, with the support of meta4 , the metals and alloys node of the Materials KTN, held a dissemination event on the status of the supply chains for the UK Power Generation Sector.
The workshop was held at the National Metals Technology Centre (NAMTEC), Rotherham, on the 1st May
At the event the findings of a report commissioned by the Energy Materials Working Group of Materials UK: "The Mapping of Materials Supply Chains in the UK's Power Generation Sector" were presented.
The presentations from the day are available for download below.
---
TECHNOLOGY STRATEGY BOARD - AUTUMN CALLS FOR FUNDING
Two funding calls have now been announced for Autumn 2007:
Materials for Energy
The Technology Strategy Board and EPSRC have allocated and indicative amount of £12M to fund highly innovative collaborative research proposals in Materials for Energy. Funding is available for industry-led collaborative projects. To download details of the funding call, please click here to down load the PDF.
Low Carbon Technologies
The Technology Strategy Board has allocated an indicative amount of £10M to invest in highly innovative research in Low Carbon Technologies. This competition will support a relatively broad portfolio of low carbon technologies that will focus of specific barriers which need to addressed if these technologies are to be brought to market. To download details of this funding call, please click here to download the PDF.
Full details of all Technology Strategy Board calls are to be found on the website: http://www.technologyprogramme.org.uk
---
STRATEGIC RESEARCH AGENDA - MINISTERIAL LAUNCH
4th December 2007, Tate Britain, Millbank, London
The Energy Materials Strategic Research Agenda was launched on Tuesday 4th December in the Clore Auditorium, Tate Britain, Millbank, London. The Strategic Research agenda documents and the presentations are available to download in PDF format below. (Documents will open in a new window)
Documents
Strategic Research Agenda Document PDF 3.3MB
Fossil Energy PDF 1.21MB
Nuclear Energy PDF 1MB
Alternative Energy PDF 2MB
Transmission Distribution and Storage PDF 1.65MB
Press Release PDF 43KB
Presentations
Welcome & Background; Wyn Jones OBE, Chairman MatUK (PDF 123KB)
Keynote Address; Sir Brian Bender, Permanent Secretary, BERR (PDF 22KB)
Industrial perspective; Nick Otter OBE, Director of Technology, Alstom Power (PDF 679KB)
Research Perspective; John Wand MBE, EPRSC, Director of Materials Programme (PDF 141 KB)
Technology Strategy Board Perspective, Iain Gray, CEO (PDF 201KB)
Energy Technology Institute, Dave Clarke, Director ETI (PDF 213KB)
Presentation of the Strategic Research Agenda
Introduction - Dr Derek Allen (PDF 915KB)
Fossil Energy - Dr Colin Small (PDF 1.54MB)
Nuclear Energy - Professor George Smith (PDF 305 KB)
Alternative Energies - Dr John Oakey (PDF 786 KB)
Transmission, Distribution and Storage - Dr Ziad Melhem (PDF 1 MB)
Summary and Conclusion - Dr Derek Allen (PDF 291 KB)
---
MATERIALS WORLD - ENERGY SPECIAL ISSUE
The July issue of Materials World features a number of articles on Energy and Materials for Energy.
Powering the nation
The Energy Materials Working Group has published its plans for developing its Strategic Research Agenda and deployment plan in an article written for the July edition.
Click here to download pdf
Searching for solutions
George Morris of QinetiQ explains why materials are important for energy technology developments.
Click here to download pdf
Fuel of promise
The UK's National Physical Laboratory is stepping up research to create commercially viable fuel cells.
Click here to download pdf

Materials for energy
Imperial College London, UK, is at the forefront in energy materials research.
Click here to download pdf

---
23 May 2007
The Government today published its White Paper on Energy. A full copy of the document is available for download here.
Energy White Paper (PDF) 6.55MB
Also available is a copy of the transcript of the Rt Hon Alistair Darling's speech.
Speech Transcript (PDF ) 49KB
---
'WORKSHOP ON ENERGY MATERIALS - DEFINING R&D PRIORITIES'

DTI Conference Centre, 1 Victoria Street, London.
Friday, 24th November 2006

This meeting was held to disseminate the terms of reference of this Group and more importantly launch Task Groups which will embrace the wider materials community involved in the Energy Sector and obtain their input into the UK materials requirements relating to Energy generation, storage, transmission & distribution, conservation and security of supply.
The presentations from this Town Meeting are Available for download below. Please click on the links to download the files.
Introduction and Agenda
Dr Derek Allen
PDF ( 163KB)
Materials UK
Dr David Bott
PDF (4.6MB)
Energy Materials Terms of Reference
PDF ( 878KB)
Fossil & Nuclear
Dr Derek Allen, A Turnbull, I Cook)
PDF (2.79MB)
Alternative Energy Challenges
Oakey, Cane, Kilner
PDF (2.81MB)
Breakout Sessions
Introduction
PDF ( 36KB)
Outputs from Break out Sessions
Fossil Fuels Breakout session
PDF (47KB)
Nuclear Breakout Session
PDF (37KB)
Alternative Energy - wind, wave, tidal and solar
PDF (15KB)

Alternative Energy - Biomass, fuel cells and hydrogen
PDF (16KB)