Science and Technology
The 2006 reports from the Science & Technology Task Group were officially launched at the Work Foundation, London on Tuesday 4th July 2006.
The reports are available for download from the Materials KTN web site. You will need to be a member of the Materials KTN to access the reports as they are within the membership area. To go to the relevant page on the KTN, please click here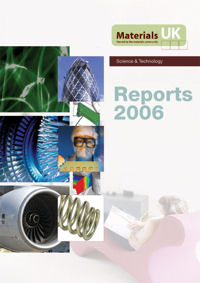 Contacts:
Co-Chairs:

Professor Graham Davies, University of Birmingham

Dr Derek Allen, Alstom Power
Secretariat:

Jackie Butterfield (IOM3)
Jackie.Butterfield@iom3.org
---
Science & Technology Town Meeting - Thursday 14th December
Science & Technology – The Way Forward?
The Science & Technology Working Group has undergone many evolutionary changes since its formation as the Materials Foresight panel in 1993. Now under the banner of Materials UK, it aims to drive forward the science & technology agenda for materials in the UK.
A Town Meeting was held at the Institute of Materials, Minerals and Mining, 1 Carlton House Terrace, London on Thursday 14th December to discuss the future strategy for the Working Group and for materials.
The Presentations from the Town Meeting are available for dowload below. The outcomes of the afternoon breakout sessions will be available shortly.
Welcome and Introduction
Materials IGT Science & Technology Recommendations and Terms of Reference for the Working Group
Professor Graham Davies, Chair, Science & Technology Working Group

PDF (392KB)

DTI Materials Strategy
Dr Robert Quarshie, Director, Materials KTN

PDF (800KB)

Materials UK - Actions Moving Forward
Dr David Bott, CEO, Materials UK

PDF (5MB)

European Materials Technology Platform
Dr Derek Allen, Co-Chair, Science & Technology Working Group

PDF (1.3MB)

European Framework 7 Programme Opportunities
James Johnstone, National Physical Laboratory

PDF (124KB)

Priority Materials Challenges

Materials for Sensors and Diagnostics
Dr Markys Cain, National Physical Laboratory

PDF (2.45 MB)

Structural Materials
Dr Martin Marples, NAMTEC

PDF (339KB)




Breakout Sessions

- Materials for Sensing and Diagnostics

- recommendations to Materials UK

We would welcome your comments on the outcomes of the break out sessions. Please feed your comments back to jackie.butterfield@iom3.org
Quick Links
Science & Technology - The Way Forward - 14th December 2006